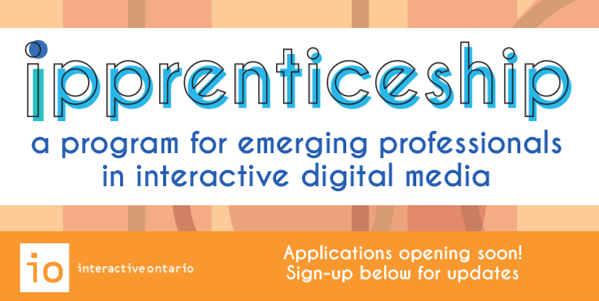 A program to help Black youth and women kickstart their careers in interactive digital media
Applications will be opening up shortly. Stay tuned for updates!
Following successful cohorts in 2017 and 2018, Interactive Ontario will once again offer its ipprenticeship program in 2019. The program provides week-long paid placements at leading IDM (interactive digital media) studios for emerging IDM professionals who are currently underrepresented in the industry. If you're looking to start a career in video games, virtual/augmented reality, eLearning or other forms of interactive media, this program is for you!
Who is Eligible:
Placements will be available for Black youth (aged 18-25) and women looking to start their careers in the interactive digital media sector. Applicants must either be post-secondary students or new grads, or those with a comprehensive portfolio of art and/or programming projects with the intention of pursuing a career in IDM.
Ipprenticeship Program participants receive:
A week spent on site at the company with job shadowing, meetings, workshops and networking
A $1000 honorarium upon completion of the program
A networking dinner with fellow participants and industry contacts
Program History:
Last year, the program expanded to include four positions in Toronto and one in Ottawa. The host companies for 2018 were Ubisoft Toronto and Groupe Média TFO in Toronto and Magmic in Ottawa.
The program is jointly funded by the host companies and, as part of a three-year grant from the Industry-Led Career Initiative (ILCI), administered by the Ministry of Children, Community and Social Services through the Network of Services for Black Children, Youth and Families (formerly the Black Youth Action Plan). As one of five organizations selected to deliver programming over three years through the first round of the ILCI, Interactive Ontario oversees the ipprenticeship Program as well as Digital Dive, a series of workshops for Black high-school aged youth who are interested in learning about careers in interactive digital media.
Previous Participating Companies have included:
Magmic
Groupe Média TFO
Ubisoft
DHX Media
Stay tuned for updates and our announcement of participating companies for 2019!
Funding provided by the Government of Ontario
Sign-up to get updates to your inbox: