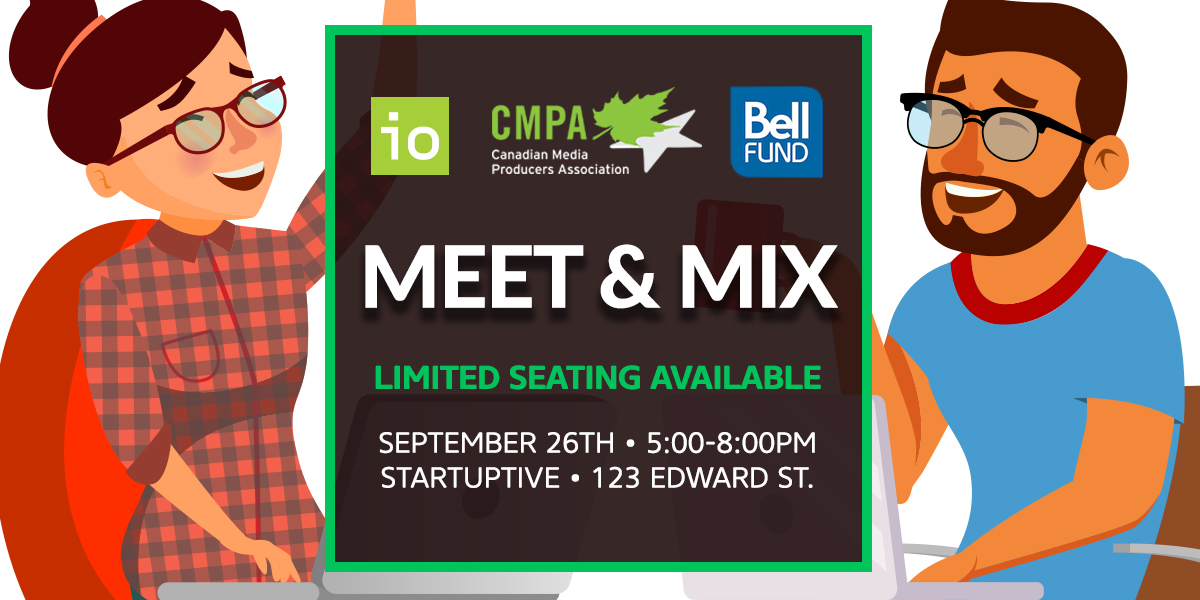 IO and CMPA Meet + Mix 2019
September 26, 2019
5pm-8pm
Location: Startuptive (123 Edward Street, Suite 205, Toronto)
IO and CMPA members will receive the registration link and password via email – members can also email info@interactiveontario.com for the details. Not a member yet but don't want to miss out? Join IO here and CMPA here.
Interactive Ontario and the CMPA are once again teaming up to host our third annual Meet + Mix event. Meet + Mix is a B2B meeting event and reception that brings together film & TV producers and interactive digital media producers in the hope of sparking new and innovative cross-sector collaborations. This year, we've also partnered with Bell Fund to bring you new networking opportunities. Registration is limited to content creators/executives who are members of IO or CMPA, plus guests of Bell Fund.
Meet + Mix will include brief opening remarks and an hour and a half of facilitated meetings, followed by a networking reception with food and drinks.
Prior to the event, each participant will be booked for 4 meetings of approximately 20 minutes each. During the registration process you will be asked to describe your current and upcoming projects, your area of expertise and the areas of expertise of the people you'd like to meet. We'll do the rest! It's an easy and fun way to make new connections in the screen-based sector. Please note that we will be matching you with members of the partner organization – so, if you register for a CMPA member ticket, you will be matched with IO members, and vice versa. See the FAQs section below for more information.
Seating is very limited, so register now! Registration will close Sunday, September 15th at 11:30pm. Participants will receive the details of their meeting matches via email by September 20th, 2019.
Schedule
5pm – 5:15pm – Doors open and sign-in
5:15pm – Opening remarks
5:30pm – 7pm – Pre-arranged meetings
7pm-8:00pm – Networking reception
Co-Host
Event Partner
Frequently Asked Questions
How many meetings will I have?
You'll be matched for four meetings. Each meeting will be 20 minutes long.
Who will I be matched with?
If you register for a CMPA ticket, you'll be matched with members of Interactive Ontario. If you're an IO member, you'll be matched with CMPA members. Guests of Bell Fund will be matched with both organizations' members. Everyone's meetings will be personally matched by staff, based on the answers provided in the registration questionnaire, to ensure relevant connections.
Can I see who else is attending and request to be matched with specific people?
Unfortunately, no. The matchmaking process is complex and allowing everyone to make requests isn't something we have the resources to accommodate. But that's what the reception following the meetings is for! It will give you a chance to meet people you weren't matched with.
What if I'm not a content creator?
This event is geared towards content creators/executives. If you're a professional services provider who wishes to make new connections, you can join us for the networking reception – just send an email to info@interactiveontario.com to let us know you'll be coming.
What if I sign up and can no longer attend?
Prior to September 15th, you can easily request to cancel your registration by emailing us at info@interactiveontario.com. After September 15th, we would request that you send a colleague in your place if at all possible. If you can't send a replacement, please contact us as soon as possible so that we can find other meetings for your matches.