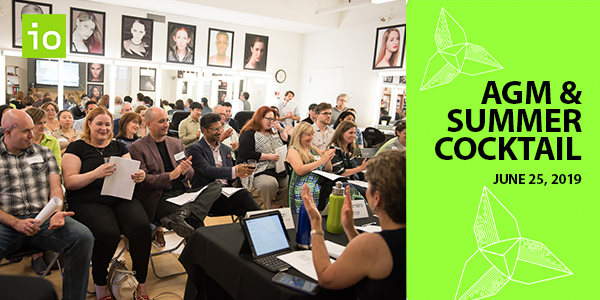 IO Annual General Meeting and Cocktail – June 25, 2019
Interactive Ontario's Annual General Meeting will take place on June 25 at Ryerson Creative Innovation Studio (110 Bond St, Toronto) and we hope our members will be able to join us! Doors open at 4:30pm. The meeting will begin promptly at 5:00pm and will be followed by a summer cocktail at 5:45p.m.
The AGM is an excellent opportunity to hear a summary of IO's many initiatives over the past year, get a preview of the year to come, and to network with industry peers at the cocktail reception. Class A members will have the opportunity to approve Fiscal 2019 financial statements and vote on the board slate.
Members are invited to join us, with the password to access the invitation to be found in your member newsletter. We ask that you please RSVP by June 21st.
All the relevant documents for the Annual General Meeting, including the meeting details, nominated directors and more will be sent via email before June 4th. If you do not receive the email with these attachments, please email Carly at carly[at]interactiveontario[dot]com.